"Stimmen aus dem Untergrund" Artist: Damnation Defaced Album: Beyond The Pale Spiellänge: 56:53 Minuten Genre: Progressiv Death Release: 12.11.2010 Label:...
Artist: Damnation Defaced Label: SOAL Genre: Progressive Death Metal Bandmitglieder: Gesang – Philipp Bischoff Gitarre – Lutz Gudehus zweite Gitarre...
"Ein Feuerkessel" Bands: Discreation, Voice of Revenge, Damnation Defaced und lokaler Support: Dejection Location: Bastard Club, Osnabrück Homepage: http://www.facebook.com/#!/comingdeathtour...
"Stick to your Roots – Support the Underground!" Artist: Damnation Defaced Herkunft: Hamburg, Celle & Hannover, Deutschland Album: Slaughter Race...
"Chaos. Fucking Great Chaos!" Band: Damnation Defaced Vorbands: Echoes Of Devastation & Honey, I Kill You Location: Tunis Discothek, Marx...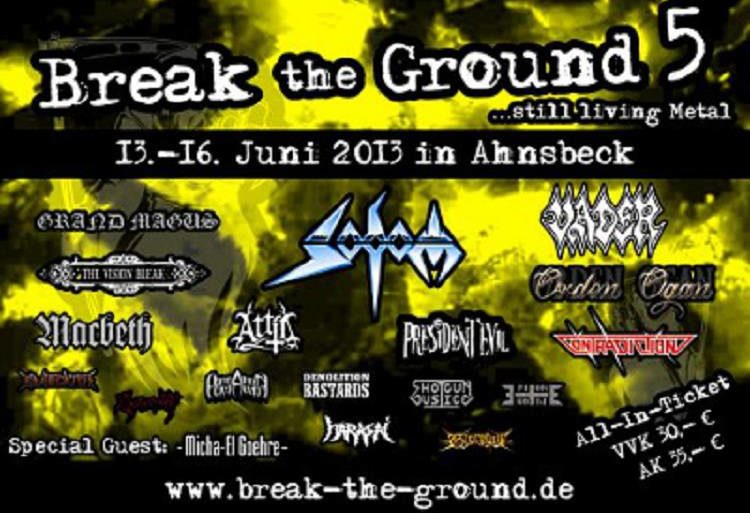 "Break The Ground Open Air 2013 vom 13.06. – 16.06.2013 in Ahnsbeck!" Bands: Sodom, Vader, Grand Magnus, Orden Ogan,...
"Schlachtfest XIII am 05.04.2014 im Schlachthof Aurich" Bands: Benighted, Damnation Defaced, Graveyard Ghoul und Until The Moment Comes Location: Schlachthof,...
Das Frühjahr 2015 wird feurig, denn mit THE INFERNAL TREMOR veröffentlichen die Norddeutschen das langersehnte zweite Album viereinhalb  Jahre nach...
"Krasse Weiterentwicklung!" Artist: Damnation Defaced Herkunft: Celle, Deutschland Album: The Infernal Tremor Spiellänge: 42:36 Minuten Genre: Death Metal, Meloidc Death...