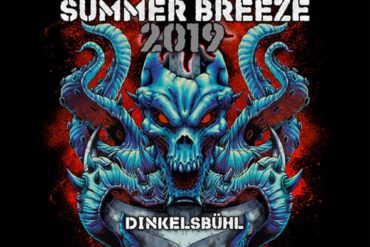 Die 22. Runde steht in den Startlöchern ...
Event: Summer Breeze Open Air 2019 Bisher bestätigte Bands: In Flames, Dragonforce, Battle Beast, Myrkur, Winterstorm, Hamferd, Aborted, After Burial,...
Weiterlesen
Ein Vierteljahrhundert voller unvergessener Melodien
Wer auf hart rockende Livemusik steht, kommt im Dreiländereck Deutschland/Frankreich/Schweiz an der Konzertfabrik Z7 in Pratteln kaum vorbei. Die Konzertfabrik...
Weiterlesen
"Eine Meisterwerk unter den Mix-Veröffentlichungen!" Artist: Various Artists Album: Blood Ceremonies Spiellänge CD: 78:50 Minuten Spiellänge DVD: 85:10 Minuten Release:...
Weiterlesen
Das Party.San Open Air hat sich in den letzten Jahren zu einem der größten Metalfestivals der härteren Genres in Europa...
Weiterlesen
"In The Minds Of Evil" European tour 2015 Support: Svart Crown, Sawthis 01.12.2014 (UK) London / Underworld 02.12.2014 (GER) Trier...
Weiterlesen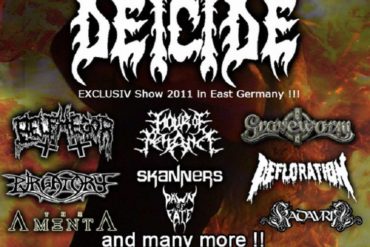 Im Juli steht Torgau zum sechsten Mal IN FLAMMEN! Das als einfaches Indoor-Konzert gedachte Fest, etablierte sich innerhalb weniger Jahre...
Weiterlesen
Wenn in Thüringen die Erde unter tonnenschweren Riffs bebt
Event: Party.San Metal Open Air 2019 Bands: Deathride, Voodus, Carnal Tomb, Night Demon, Beheaded, Traitor, Nekrovault, Vulvodynia, Goat Explosion, Damnation...
Weiterlesen
Special Homecoming Show führt die Thrasher erneut ins Crash
Event: Thrash Alliance Tour Part II 2020 Headliner: Destruction Supportbands: Suicidal Angels, Crisix, Domination Inc. Ort: Crash Musikkeller, Schnewlinstr.7, 79098...
Weiterlesen