Die Metalcore-Schwergewichte EMMURE haben ihr neues Album, »Look At Yourself«, angekündigt. Es soll Anfang 2017 erscheinen. Der Nachfolger zum 2014er »Eternal Enemies« ist...
Ca. ein Jahr ist es her, dass Emmure ihr mörderisches siebtes Studioalbum Look At Yourself via SharpTone Records veröffentlicht haben. Nachdem die...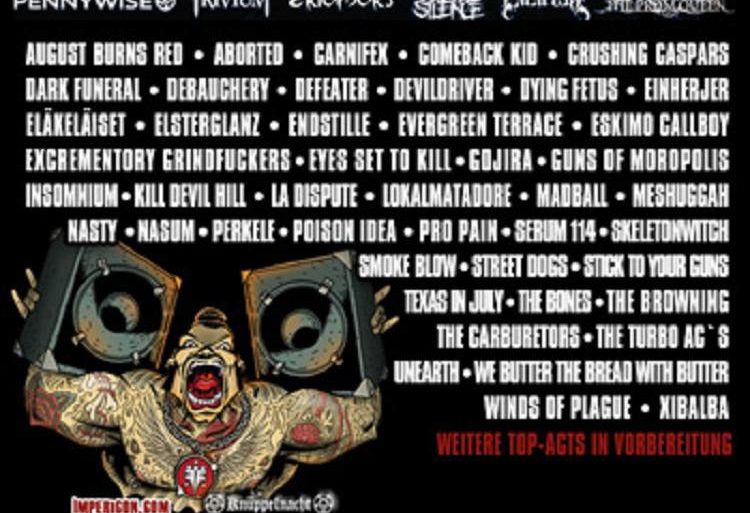 Zum 19. Mal lädt der heftigste Acker Deutschlands ein! Das With Full Force Festival geht dieses Jahr bereits in die...
"Never Say Die! Aber sowas von!" Band: Emmure Vorbands: Carnifex, I Killed The Prom Queen, Betraying The Martyrs, Hundreth,...
"…wenn Mario mit dem langen Balken von Tetris Gitarre spielt" Artist: Emmure Album: Slave To The Game Spiellänge: 32:42 Minuten...
"Tschechische Qualität" Eventname: Brutal Assault Bands:  Ad Nauseam, Agalloch, Amenra, Anaal Nathrakh, Annihilator, Antaeus, Antropomorphia, Arcturus, ASPHYX, At The Gates,...
"Graspop Metal Meeting 2018 vom 21. – 24.06.2018 in Dessel, Belgien (Vorbericht)" Festivalname: Graspop Metal Meeting 2018 Bands: Guns n'...
EMMURE haben einen weltweiten Vertrag mit Nuclear Blast / SharpTone Records geschlossen und kündigen ihr siebtes Studioalbum an. Das kommende Album...
"Summer Breeze Open Air 2016 vom 17.08.2016 bis 20.08.2016 in Dinkelsbühl"
Festivalname: Summer Breeze Open Air 2016 Bands: Abbath, Accuser, Aeverium, Agnostic Front, Airbourne, Almanac, Arch Enemy, Argyle Goolsby and the Roving...