Mit Fat Dog, Diamond Head, Lechery, Fighter V, Pretty Wild uvm.
Time For Metal und das Ice Rock Festival verlosen 2x 1 Festivalticket für alle drei Tage des Ice Rock Festival vom...
"PPM Fest 2014 vom 18.04 bis 20.04.2014 in Mons/Bergen (Belgien)" Bands: Amon Sethis, Amorphis, Borealis, Burning Circle, Dragonland, Emergency...
"Kein laues Lüftchen" Artist: Evergrey Herkunft: Göteborg, Schweden Album: The Storm Within Spiellänge: 58:28 Minuten Genre: Dark Melodic Metal Release:...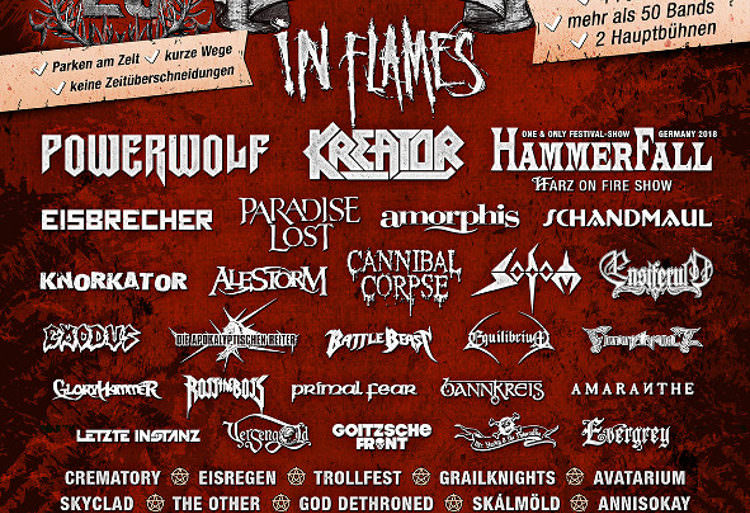 "RockHarz Festival 2018 am 04.07. – 07.07.2018 am Flugplatz, Ballenstedt (Vorbericht)" Festivalname: RockHarz Festival 2018 Bands: ahab, Amaranthe, Amorphis, Annisokay,...
"Auf geht`s in die 21. Runde Bang Your Head…!" Festivalname: Bang Your Head Festival 2019 Bands: Amored Saint, Attic, Audrey...
"70.000 Tons Of Metal 2018: Start und Ende der Kreuzfahrt ist 02.02.2017 – 06.02.2017 in Miami (Vorbericht)!" Festivalname: 70.000 Tons...
Kamelot + Support am 15.03.2019 in der Matrix in Bochum
Eventname: Shadow Empire Tour Headliner: Kamelot Vorband(s): Evergrey, Visions Of Atlantis Ort: Matrix, Bochum Datum: 15.03.2019 Genre: Heavy Metal, Power...
Als einer der vielen sowohl lyrischen als auch musikalischen Höhepunkte auf Escape Of The Phoenix kann wohl The Beholder genannt...