Bands: Hackneyed, Varg, Milking The Goatmachine und Hexadar Location: Markthalle in Hamburg Datum: 20.04.2011 Kosten: VVK: 23 Euro; AK: 27...
Bands: Sabaton, Eluveitie und Wisdom Location: Grosse Freiheit in Hamburg Homepage: http://www.rtn-touring.com/ Datum: 13.10.2012 Kosten: VVK: 33,50 € , AK:...
Time For Metal und Revolt! verlosen 2×2 Tickets zum Macbeth und Nevertrust Konzert! Datum: 24.11.2012 Bands: Macbeth – Deutschland http://www.macbeth-music.de...
"Überzeugende Acts!" Band: Kamelot Vorbands: Xandria, Triosphere & Blackguard Location: Markthalle, Hamburg Homepage: http://www.markthalle-hamburg.de Datum: 20.11.2012 Einlass: 19:00 Uhr /...
"Into Darkness 2012 hält was es verspricht!!" Band: Pain und Moonspell Vorbands: Swallow The Sun, Lake Of Tears & Scar...
"Kollektives Dauersingen!" Band: Parkway Drive Vorbands: Emmure, The Word Alive & Structures Location: Große Freiheit 36, Hamburg Homepage: http://grossefreiheit36.de/...
"Einer besser als der andere!" Band: Long Distance Calling Vorbands: Sólstafir & Audrey Horne Location: Klubsen, Hamburg Homepage: http://www.klubsen.de/ Datum:...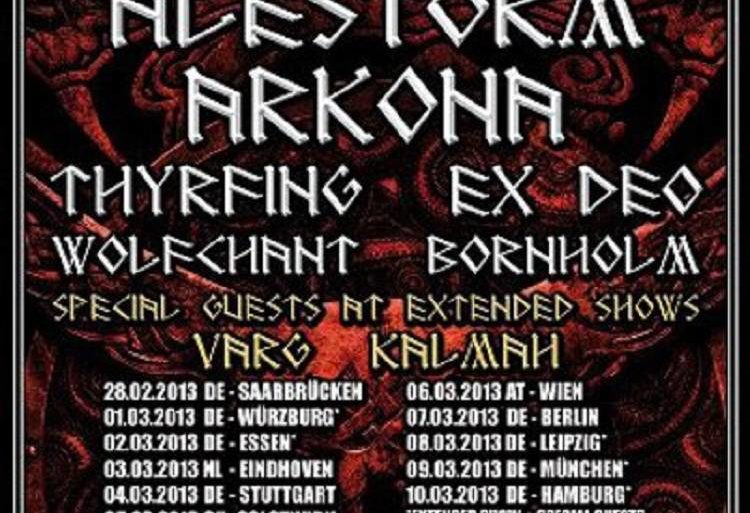 "Ein barbarisches lautes, heidnisches Winter-Inferno 2013!" Band: Alestorm und Arkona Vorbands: Varg, Kalmah, Thyrfing, Ex Deo, Wolfchant & Bornholm Location:...
"Alternative Rock aus dem Norden Deutschlands" Artist: Kingdom Come Herkunft: Hamburg, Deutschland Album: Outlier Spiellänge: 41:32 Minuten Genre: Alternative Rock...