Das Programm des Reload Festival 2017 ist beinahe komplett! Heute geben die Veranstalter die nächsten vier Bands für das Open...
Leider muss der Veranstalter dieses Jahr mit der traurigen Nachricht anfangen, dass zwei Bands – LIFE OF AGONY und GRUESOME...
Festivalname: Summer Breeze Open Air 2017 Bands: Korn, Amon Amarth, Kreator, Heaven Shall Burn, Megadeth, Children Of Bodom, In Extremo,...
"Reload Festival 2017 am 25.08 – 26.08.2017 in Sulingen (Vorbericht)!" Eventname: Reload Festival 2017 Bands: Amon Amarth, Heaven Shall Burn,...
"Überfällig!" Artist: Life Of Agony Herkunft: New York, USA Album: A Place Where There's No More Pain Spiellänge: 40:29 Minuten...
"4 Tage voller Sonne, Musik, Spaß und Regen!" Festivalname: Summer Breeze 2017 Bands: 1349, Amon Amarth, Amorphis, Architects, ASPHYX, August...
Fifty Shades of Grey"– mit diesem Motto könnte man aktuell das Wetter in Deutschland beschreiben. Für etwas Licht am Horizont...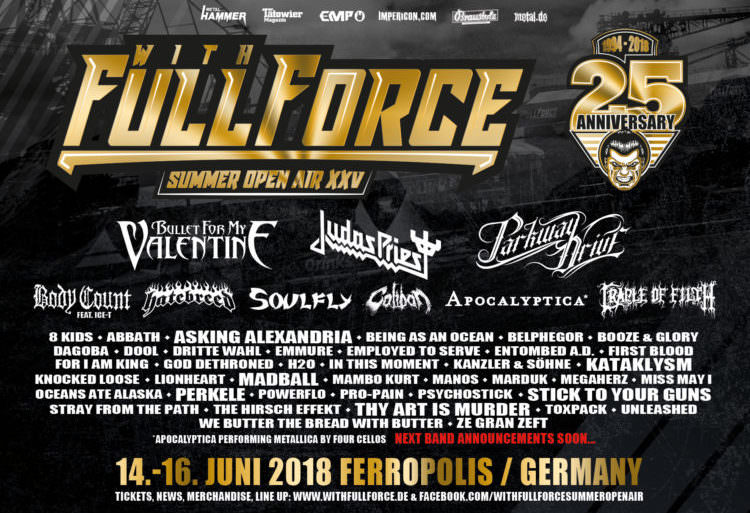 Eventname: With Full Force 25 Years Anniversary Bands: Parkway Drive, Judas Priest, Bullet For My Valentine, Body Count, Hatebreed, Soulfly,...
"Kieler Woche 2018 – Ein Volksfest mit Festivalcharakter!" Eventname: 136 Jahre Kieler Woche Bands: ca. 400! Ort: Kiel, Schleswig-Holstein Datum:...