"Aufräumen mit Vorurteilen" Artist: Mustasch Herkunft: Göteborg, Sweden Album: Testosterone Spiellänge: 39:13 Minuten Genre: Heavy Metal, Rock´n Roll Release: 18.09.2015 Label: Gain / Sony...
"Mustasch & Deville am 19.10.2015 im Knust in Hamburg!" Headliner: Mustasch Vorband: Deville Ort: Knust, Hamburg Datum: 19.10.2015 Kosten: 19,90...
"Die saarländischen Dicke-Eier Rock'n Roller packen aus" Artist: AC Angry Herkunft: Saarbrücken, Deutschland Album: Appetite For Erection Spiellänge: 38:15 Minuten...
Mit "Chickpulling Machine" bieten Hot Boogie Chillun einen weiteren Instant Grat Track aus ihrem Re-Release Album "18 Reasons To Rock`n`Roll",...
"Hell`s Belles am 10.08.2018 auf dem Rathausplatz in Maulburg" Eventname: Open Air Maulburg Band: Hell`s Belles Ort: Rathausplatz, Hermann-Burte-Str.57, 79689 Maulburg Datum: 10.08.2018 Kosten: Eintritt...
Metal ohne Netz und doppelten Boden...
Event: No Playback Festival 2019 Headliner: Onkel Tom Vorbands: Wizard, Debauchery`s Balgeroth, Stallion, Sticky Boys, Pripjat, Gefrierbrand Ort: Festhalle Durlach,...
Die 22. Runde steht in den Startlöchern ...
Event: Summer Breeze Open Air 2019 Bisher bestätigte Bands: In Flames, Dragonforce, Battle Beast, Myrkur, Winterstorm, Hamferd, Aborted, After Burial,...
Im Underground mit den jungen Wilden ...
Event: Sing For The Chaos – Tour 2019 Headliner: Devil`s Gun Vorbands: Maltdown, Smashing Train Ort: Le Grillen, 19 Rue...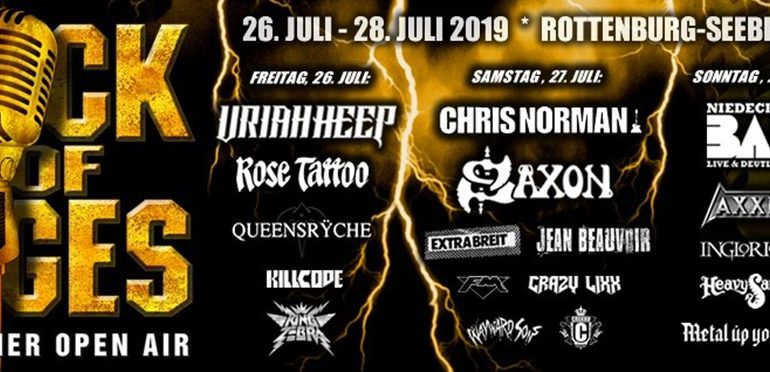 Zeitlose Rock- und Gitarrenmusik in familiärer Atmosphäre
Eventname: Rock Of Ages Sommer Open Air 2019 Bisher bestätigte Bands: Axxis, Chris Norman, Crazy Lixx, Crekko, Extrabreit, FM, HeavySaurus,...