Das Devil Side Festival öffnet dieses Jahr zum dritten Mal seine Pforten und ist damit nach wie vor ein Open...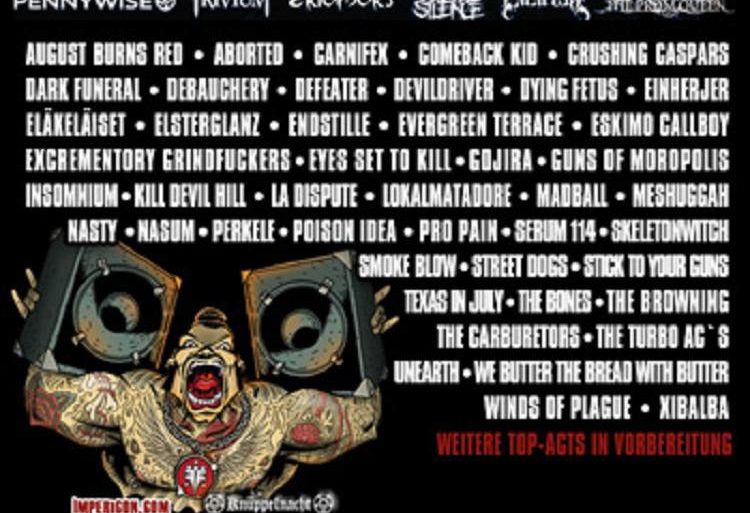 Location: Flugplatz Roitzschjora bei Löbnitz Homepage: http://www.withfullforce.de/ Datum: 29.06.2012 – 01.07.2012 Kosten: 3-Tages-Tickets: 79,00 € (inklusive Camping) Besucher: ca. 25.000...
V8WANKERS + PSYCHOPUNCH  + KITTY IN A CASKET (18.-22.3.) + THE CARBURETORS  (23.-26.3.)   18.3.  Erfurt (D), From Hell 19.3....
Festivalname: Tons Of Rock 2016 Bands: Black Sabbath, Rival Sons, Raga Rockers, Vreid, Blues Pills, Leprous, Mannskoret, Pil & Bue, Heatseekers, Buzzdrivers,...
The Carburetors + 9mm  Support: MF Ruckus 08.12. Essen, Turock 09.12. Hamburg, Headcrash 10.12. Leipzig, Hellraiser 11.12. München, Backstage Club...
"Irrelevante Selbstverherrlichung" Artist: The Carburetors Herkunft: Oslo, Norwegen Album: Laughing In The Face Of Death Spiellänge: 39:04 Minuten Genre: Heavy Rock Release:...
Gewinner wurde am 27.12.2019 ausgelost!
Liebe Leser, Freunde, Fans und Partner, das Time For Metal-Team wünscht euch ein wunderschönes und besinnliches Weihnachtsfest im Kreise eurer...