Tolle Platte mit vielen Gastmusikern
Artist: The Picturebooks Herkunft: Gütersloh, Deutschland Album: The Major Minor Collective Genre: Rock, Blues Rock Spiellänge: 43:15 Minuten Release: 03.09.2021...
Welcher Sänger passt besser zum musikalischen Schaffen von The Picturebooks als Chris Robertson von Black Stone Cherry? Mit ihrem Album...
Artwork und Tracklist von "The Major Minor Collective" veröffentlicht
Nachdem The Picturebooks bereits letzten Monat den Titel ihres neuen Albums enthüllt haben, präsentieren die Jungs nun das offizielle Artwork...
Acht Konzerte für März und April 2022 sind bestätigt
Nach der Pandemie-bedingten Absage der 2020er-Tour kündigen The Picturebooks nun Termine für ihre nächste Headliner-Tournee durch Deutschland an. Das Gütersloher Roots-Rock-Duo um...
Freunde auf Tour zu finden, zahlt sich definitiv aus. Das Ergebnis einer dieser Freundschaften kann in einer weiteren, atemberaubenden Zusammenarbeit...
Das 15. Hellfest bietet wieder hochkarätige Acts
Eventname: Hellfest 2020 Bands: System Of A Down, Faith No More, Judas Priest, Deep Purple, Deftones, Incubus, KoRn, Volbeat, Airbourne,...
Tolles Konzert in der Kreativfabrik in Wiesbaden
Bands: Valley Of The Sun, The Alligator Wine, Warp Ort: Kreativfabrik Wiesbaden, Murnaustraße 2, 65189 Wiesbaden Datum: 10.10.2019 Kosten: 16...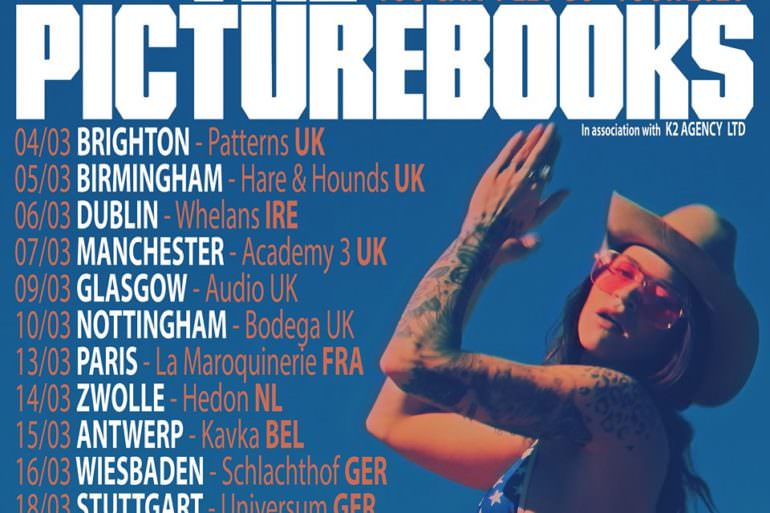 Tickets sind ab Freitag, dem 26.07 im Presale erhältlich
Auf der Bühne zeigt der weitgereiste Zweier seine wahre Stärke. Inzwischen hat das Duo aus Gütersloh mehr als 400 umjubelte...
Bands: The Picturebooks, The Alligator Wine Ort: Club Volta, Schanzenstr. 6 – 20, Gebäude 2.10, 51063 Köln Datum: 10.04.2019 Kosten:...