"Von Anfang bis Ende ist das Welcome To The Morbid Reich-Album auf höchstem Niveau und zieht den Hörer gewaltsam in...
Eine wahnsinnige Festival Location, weltklasse Metalbands und ein fairer Preis: das ist – in einem Satz ausgedrückt – das, wofür...
Eine bereits heimisch werdende Location, die dieses Jahr wieder mal weltklasse Metalbands zu einem fairen Preis anbietet, das ist –...
Location: Freilichtbühne Loreley – St. Goarshausen Homepage: http://www.dewe.metalfest.eu Datum: 07.06.2012 – 09.06.2012 Kosten: 3-Tages-Tickets: VVK: 59 – 84 Euro (abhängig...
"Extremefest vom 23.05.13 – 25.05.13" Band: Behemoth, Kataklysm, Legion Of The Damned, Thyrfing, Grave, Tankard, Enslaved, Vader, Hail Of...
"Das T" Band: Agnostic Front, Alestorm, Amorphis, Anthrax, Architects, Arkona, Benediction, Bury Tomorrow, Carach Angren, Cliteater, Cult of Luna, Cultus...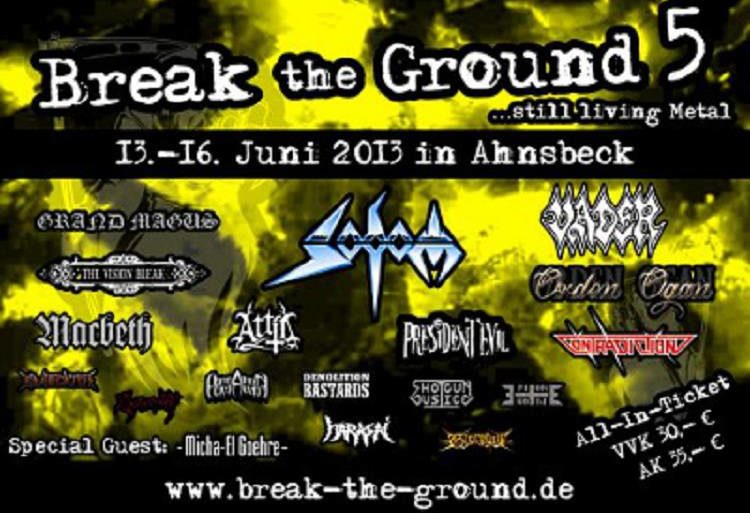 "Break The Ground Open Air 2013 vom 13.06. – 16.06.2013 in Ahnsbeck!" Bands: Sodom, Vader, Grand Magnus, Orden Ogan,...