Artist: Angra
Orgin: Sao Paulo, Brasilien
Genre: Power Metal, Progressive Metal
Label: earMUSIC
Link: https://www.facebook.com/AngraOfficialPage
Bandmembr:
Vocals – Fabio Lione
Guitare – Rafael Bittencourt
Guitare – Kiko Loureiro
Bass – Felipe Andreoli
Drums – Bruno Valverde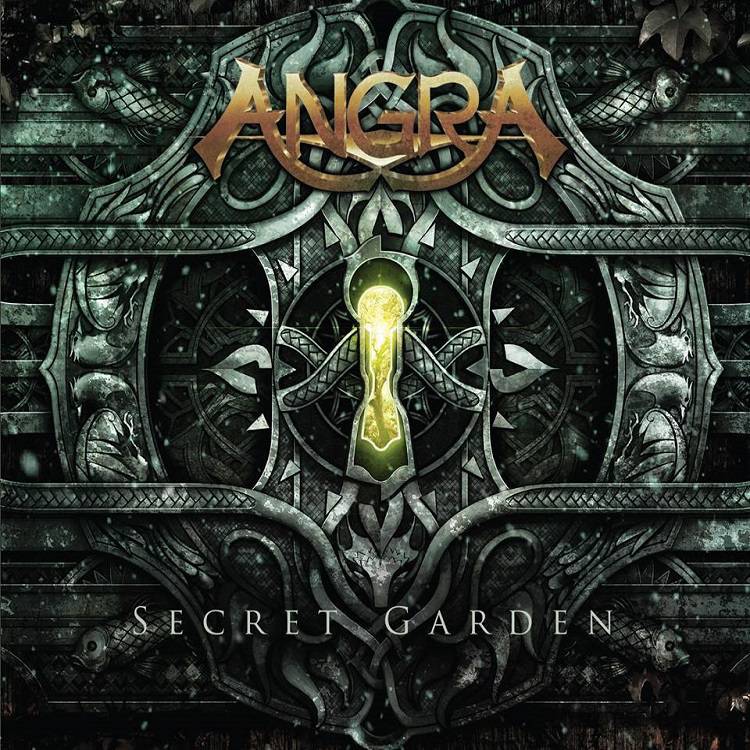 Time For Metal / Rene W.:
Hi Fabio,
it´s great that you found some time to talk about your latest record Secret Garden. People often say, and I think so too,  that you are Brasil´s Iron Maiden. Would that comparison be a flattering one or don´t you like it all being compared?
Angra / Fabio:
Of course we like it!!!I think that probably the band is well known in Brasil..and as you know in our country we have mainly Sepultura and Angra as main bands..after 23 years of history the band has some strong fanbase and it's an honour to be compared to such a great band like Maiden!!!
Time For Metal / Rene W.:
When I was a kid I listened to Angels Cry, Holy Land or Fireworks continously. Compared to now I can definitely see a great development. How important is balance between old stuff and modern influences?
Angra / Fabio:
I think is something right for a band to think carefully regarding the sound and songs..with this new record we made something more fresh,modern,dark and various..but i think we didn't lose some Brasilian percussions,feeling,soul.. It's always a delicated line..but we think that is important to add some modern influences in the music style of a band..
Time For Metal / Rene W.:
Besides ballads, your fans clearly like to listen to Power Metal songs. How does the songwriting process look like when composing a new record, where to you take your ideas from and how does work in the studio lool like?
Angra / Fabio:
Well,this time we worked like a team..and the result was great..we all know that part of our fans like some power metal stuff and i think you can found some also in this new record.. Usually everyone give some ideas,songs,melodies or voval lines..and in the end we chose what we consider to be the best material..This time the work in the studio was so relaxing and great..we spend some time in Sweden with the producer Jens and i think we reached exactly what we wanted..a great sound,more dark,modern and fresh..i was really happy o work with this man..and we had good time together..
Time For Metal / Rene W.:
How difficult is a line – up change for the band?
Angra / Fabio:
Of course is something never easy..especialy if you have to change some important member as a singer or a great songwriter..but if the band is made by strong,experienced people and good musicians i think you can do it..
Time For Metal / Rene W.:
What new influences was you able to contribute to Secret Garden?
Angra / Fabio:
Honestly i was happy to see that everyone in the band liked the idea to make something more modern,with some progressive elements and a variuos cd..As everyone in the band i gave some ideas(mostly regarding vocal lines and melodies..for 5/6 songs)and probably we can hear a more variuos approach regarding the vocals..tha before..This was abvious considering that the music in this new record is really variuos and so..you have to follow this somehow..
Time For Metal / Rene W.:
You are a famous singer and a lot of critics might say it could be difficult for you to find a balance between Rhapsody Of Fire and Angra, since there is a great distance between Brasil and Italy. Are there strict rules from both of you?
Angra / Fabio:
Well..after 2 years that we spent together with Angra i can say that is possible..in the end i'm the one that decide what must be done at the right moment..and also if i d did some Miracles in 2014 regarding my time..i have to say that there are no problems..I believe that if you like what you do..you will always found the right time and give 100% in what you do..and this is actually what i'm doing..
Time For Metal / Rene W.:
How difficult is it to combine the schedules of Rhapsody Of Fire and Angra?
Angra / Fabio:
As i said before in 2014 was not so easy for me sometime..but in general is possible and you can do it with not so many troubles..It's almost impossible to have a band touring for all the year..so that means that you have time to compose,record or do some other shows with another one..let's take for example 2015..with Angra we have to support the new record..so maybe we can be busy for let's say 4/5 months..playin'..as you can see i still can havve 7 months to find time for Rhapsody of Fire or other stuff..if they wanna compose or play or whatever.. Of course i don't say that is so easy sometime..but is what i like to do and is going fine since more than 2 years..so..
Time For Metal / Rene W.:
How did the work with Simone Simons of Epica come to place?
Angra / Fabio:
We liked the idea to have her on this record..and personally i was so happy to know the she wanted to take part of it..we sing many times together during the Kamelot tour of 2011..so i know her and we are good friends..Ithink she did a great job,he's a nice person,great singer and i wish we will have the chance to make this song together live somewhere,sometime..
Time For Metal / Rene W.:
Why did you choose her to sing alongside you in the title track?
Angra / Fabio:
Well..honestly the fisrt idea was to do a duet in this song.. then i'm not really sure why didin't happen..but we still have the possibility to do it live in the future.. In this song Simone has the role of pratically sing as the wife of the main character of the concept..(a scientist..)that is speaking with him..somehow..after the death.. In fact the album starts with a small intro..in which this doctor/scientist is driving a car..and has a car accident.. In this car accident he lose the wife..and then starts to think,depression and approach himself to religiuos paths.. So you can understand that for the story..we needed a female voice to make this song and this role..I personally really like the song..but after listening the record..i feel that maybe we could sing together in the chorus or something like that..well..too late..but we can anyway do it in the future live shows sometime..or a new version of the song..who knows!?!
Time For Metal / Rene W.:
Is Secret Garden a concept record? Tell us something about the story so that your German fans might find an easier access.
Angra / Fabio:
As i said before we have aconcept behind that..a kind of modern,interesting one.. After a car accident we have a scientist/doctor living in depression..(he was driving the car..as we can hear in the small intro in the beginning..and he lose the life of his wife in this car accident..)..during the record he will listen and experiment some crazy and not logical events..talk with an angel,with his wife after the death..and become a more "closer"person..regarding religiuos things or events..in the end he will feel,found his Secret Garden..inner path and balance..thanks to religion..
Time For Metal / Rene W.:
Besides a gig at Motorcycle Rock Cruise 2015 in Brasil you also tour in Japan. What is so fascinating about Far East?
Angra / Fabio:
Of course is something "unique"..'cause you can feel and see a different culture,way of been of the people..and many typical things,tastes etc..We always new things..
Time For Metal / Rene W.:
You also play at ProgPower Festival Atlanta the USA. Is it possible to see you in Europe in 2015, because you are not that often here?
Angra / Fabio:
Of course!!!Actually we are planning some shows..this summer we have Wacken open Air..and probably before that some more gigs in Italy and around..let's see what more we can still fix..after that..as you said we will play at ProgPower in Atlanta and make some other shows in USA probably..
Time For Metal / Rene W.:
Do you prefer playing live on stage or the studio?
Angra / Fabio:
Not easy to answer..both are simply great experiences..In studio you can have very good moments and see how your ideas and compositions are growing..share some good time with the band members,producers etc..Live..well..usually is more exciting..see different places,people,share the stage in front of new people every night and live new experiences with your band..is something that hardly can be described..And when you see and know people from a long time..you share the same feeling and live the same passion for what you do and music..well..it's great!!!Probably plying live is something that has more magic..
Time For Metal / Rene W.:
What do you think about metal cruise trips, Open Airs directly at sea or even in the mountains?
Angra / Fabio:
Well..usually these are great events..because you can have a great response from the crowd..and people are goin' there to have fun..so it's a bit different from a typical metal show in a club..Then it's a great moment for a band to share the stage with some other great bands,know some new people,musicians and live a different experience..
Time For Metal / Rene W.:
What does a typical Day Off with Angra look like? What do you do in your free time? Do you sometimes have the chance to do some sightsseing at the places you play at?
Angra / Fabio:
Usually the band likes to speak,discuss and visit some places..of course if that is possible..('cause sometimes you really don't have time or possibility to do that..)
Time For Metal / Rene W.:
Thank you for the interview and good luck for the future and your new record Secret Garden. Any final words to your German supporters?
Angra / Fabio:
Thanks you!!!Well..i wish a fantastic 2015 to everyone..and wish to see our supporters in future shows..around Europe and Germany!!!See you at Wacken..and other new shows!!! Ciaooo..