Artist: The Alligator Wine
Album: The Flying Carousel (EP)
Spiellänge: 16:31 Minuten
Genre: Vintage Rock
Release: 25.01.2019
Label: Century Media
Link: https://www.facebook.com/thealligatorwine/
Bandmitglieder:
Gesang – Thomas Teufel, Rob Vitacca
Keyboard – Rob Vitacca
Schlagzeug – Thomas Teufel
Tracklist:
The Flying Carousel
Dream Eyed Little Girl
Reptile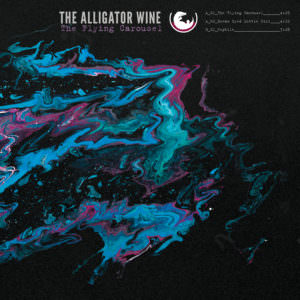 Rock ohne Gitarren, dazu noch Vintage, geht das? Alligator Wine zeigen auf ihrer EP The Flying Carousel ganz locker, dass dies ohne Probleme möglich ist. Dabei steht man ganz in der Tradition der großen The Doors, in deren kompletter Musik die Basslinie durch Ray Manzareks geniales zweites Händchen übernommen, hingegen die Lead Melodie durch Robby Kriegers reduziertes Gitarrenspiel und Ray Manzareks anderer Hand geteilt wurde. Alligator Wine vereinen einfach beide Positionen im Orgelspiel und kommen ohne Gitarristen und Bassisten aus, cool! So kann man sich demzufolge komplett auf die Akzentuierung der Songs konzentrieren, die mittels eines punktgenauen Drumings auf Spur gebracht sind und massiv Ohrwurmpotenzial bieten, eindrucksvoll im Opener The Flying Carousel nachzuhören. Etwas synthetischer klingt Dream Eyed Little Girl, in dem man sich geschickt in Richtung Queens Of The Stone Age verbeugt und geschmackvoll grooved, nicht minder stark. Kurzweilig ist die EP und findet bereits mit Reptile ihren Abschluss, das mit seiner schieren Weite an The Black Angels erinnern möchte.
Fazit
Ich bin begeistert, The Alligator Wine schaffen es auf ihrer EP eine große Bandbreite an Stilen selbstbewusst zu präsentieren. Dabei macht die Band mit ihrer atmosphärischen Dichte ganz viel Lust auf mehr. Des Weiteren dürfte sich die Musik bestens für die Filmbranche eignen, Reptile ist beispielsweise prädestiniert für diese Zwecke.

Anspieltipps: Reptile
Pro
Hammondorgel
Geschmackvoll
Sixties Rock
Kommentare
Kommentare