Artist: Ghost Iris
Origin: Kopenhagen, Dänemark
Genre: Progressive Metalcore, Djent
Label: Prime Collective
Link: https://www.facebook.com/GHOSTIRIS
Bandmember:
Vocals – Jesper Vicencio Gün
Guitar and Bass – Nicklas Grønlund Thomsen
Guitar and Bass – Peter Lykkeberg Larsen
Drums – Sebastian Linnet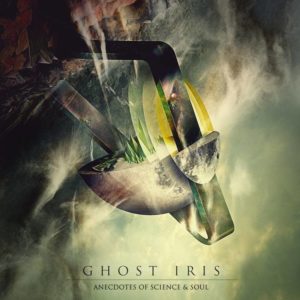 Time For Metal / Heike L.:
Hello guys,
First of all thank you very much for taking your time, answering our questions.
Ghost Iris / Jesper:
Hello! No problem, it's a privilege.
Time For Metal / Heike L.:
Can you first tell me a little bit about the history of Ghost Iris? How did you come together in 2012 and how did you agree upon playing that kind of music? Has this always been your favourite style? And what is the meaning behind the band name Ghost Iris?
Ghost Iris / Jesper:
We started as a 3 piece in 2012 – Nicklas (guitar), Peter (guitar) and myself. Nicklas and I had previously been in a band called Shaped Like Swans which disbanded, and we therefore decided to create The Monolith (which was the name of the band in the beginning). We soon acquired Peter on guitar and Sebastian on drums and started writing music.
Initially the music we wrote was very straightforward metalcore, but we then decided collectively to shift towards our own brand of metalcore so to speak – which I definitely think we've achieved, so the type of music we play we all pretty much agree upon.
We all unquestionably love metalcore, progressive metal and the likes, but we simply love music in general as well. My favourite artist when I was a child was the one and only Michael Jackson and Nicklas' original influence of rock and metal comes from Kiss and a wide variety of 80's metal. Let's put it like this: One thing we all agree on is that Justin Timberlake AND Periphery rules. Ha-ha!
The name is a play on words – The iris and the ghost. The two words represent two different aspects: Life and death.
An Iris is a part of the human eye – the eye that sees the beauty of life on earth. The ghost is the dark side. It's Death, a soul wandering restlessly. It does not possess the human eye. The two words are a fusion of life and death – A topic that is handled on one of the songs on our upcoming album Anecdotes Of Science & Souls.
Time For Metal / Heike L.:
I have written many reviews for bands that don't have a record company. You are lucky enough to have one. How did that happen? Did they contact you? And did they have any influence on the album, or were you free to express yourself?
Ghost Iris / Jesper:
Actually, the "record label" you are referring to isn't really a record label. Prime Collective is a collective of the prime of the Danish underground. It's not only metal but also alternative rock and other genres. Prime Collective contacted us and wanted us to be a part of their undertaking – the prime of our country's underground of music. They don't really control anything, as they are more like a promo establishment.
Time For Metal / Heike L.:
How did the works for the album proceed? Did the single band members have specific tasks, like writing lyrics and/or music?
Ghost Iris / Jesper:
Anecdotes Of Science & Soul was very much mutual effort. We all contribute to the song writing and I myself write all the lyrics, although Nicklas and Peter undeniably are the main songwriters. Sebastian is the groove machine though.
Time For Metal / Heike L.:
Is there any specific concept behind the album and/or can you tell me something about the meaning behind the songs?
Ghost Iris / Jesper:
It isn't really a concept album, although some of the songs are tied together. Overall dreams, disappointments, delusions and escapism are topics in the thematic aspect of the album. The three singles we have released so far ("Dreamless State", "Phalanx" and "Everlasting Bliss") form a trilogy wherein a character realizes his potential, then discovers his dream world – a place where he can fulfill this potential – and lastly achieves eternal bliss by doing so, leaving the harshness of his past reality behind.
Time For Metal / Heike L.:
The reviewers mainly mentioned the same bands as reference to your music. What do you think about these comparisons respectively categorisations? Are they both a blessing and a curse? To me especially the categorisations are quite helpful, because they allow me to arrange special playlists…
Ghost Iris / Jesper:
We don't like to categorize ourselves too much. Labels are cool, but they are for other people to decide. We're just honoured that our sound is being compared to those great bands.
Time For Metal / Heike L.:
I have found the announcement for the release party. Do you plan anything else, like e. g. a club tour, maybe also with some concerts in Germany?
Ghost Iris / Jesper:
When the album is about we'll begin our quest for more shows abroad. It's not going to happen right away, but in the future OF COURSE we'll play shows in our lovely neighbouring country of Germany!
But as it is right now we're simply promoting the album and getting it out there.
Time For Metal / Heike L.:
Is any of you guys also engaged in some other bands or projects, maybe also with a completely different kind of music?
Ghost Iris / Jesper:
Actually no. We're all very committed to Ghost Iris and focusing all of our energy on it. Although I myself would love to play some way softer music in the future when the time is right. Some sort of rock.
Time For Metal / Heike L.:
The songs are not easy to play and are demanding a certain level of technical skills. Do you have some musical education, or did you learn these skills by yourself?
Ghost Iris / Jesper:
All of us, with the exception of Nicklas are pretty much self-taught. Nicklas used to play classic guitar (Beethoven, Mozart and the likes). I never really went to a school for music, but I've had some vocal lessons. My original instrument was actually drums.
Time For Metal / Heike L.:
Also the cover of the album is really amazing. Who is the artist? Did you give him any instructions, or was he free to introduce his visions?
Ghost Iris / Jesper:
Thank you. We're all REALLY happy with the result. The artist is a French guy by the name of Igor Omodei. You might know him from an amazing band called Uneven Structure. There wasn't much instruction given. We said something like this to him: "Make something that a progressive metal band would have as their artwork, yet something they WOULDN'T have", and he came up with what you see. The essence of imagination!
Time For Metal / Heike L.:
Until now the reviews were on a quite high level. How do you deal with that for this debut album? And are you still a bit nervous, what the fans and listeners might finally say?
Ghost Iris / Jesper:
We don't really have much to loose, so we simply sit idle by and listen to what people say, albeit we're extremely confident in our material. We're really proud of what we've done and that takes the edge off any nervousness that might be present.
Time For Metal / Heike L.:
Do you have any further short-term or mid-term goals? Maybe playing with some special bands or on a special festival?
Ghost Iris / Jesper:
Right now Prime Collective and Ghost Iris are in the midst of planning a lot for the future. Just wait and see, great stuff will happen.
Time For Metal / Heike L.:
And that's it for now. Thanks once again, and I really hope to see you on stage one day. 🙂
Ghost Iris / Jesper:
No thank you! This is our first ever interview as Ghost Iris and we feel privileged. Cheers!