Nachdem die Londoner Streetpunks Booze & Glory kürzlich eine Headline-Tour angekündigt haben und zusätzlich im Dezember als Support für die Broilers durch die Lande ziehen, gibt es als Warm Up ein neues Video.
Seht hier das Video für Back On Track:
[youtube]uGi4oN31zyw[/youtube]
Die Band kommentiert: "Here it is the new video for Back On Track! – Frank Pellegrino's latest production featuring amazing Peyvand Sadeghian, cameras by Jaka Curlic (Punk Rock Holiday, Slovenia) It has been filmed in East London and around Brick Lane.
We just came back from a great tour in Japan and are now headed to Brazil to play 3 shows with the mighty Dropkick Murphys, followed by 5 weeks tour in Europe!"
The Broilers with special guest Booze & Glory
14.12.2017 (DE) Koblenz, Conlog Aena
15.12.2017 (DE) Mannheim, Mainmarkthalle
16.12.2017 (DE) Dortmund, Westfalenhalle
20.12.2017 (DE) Oldenburg, Weser – Ems – Halle
21.12.2017 (DE) Braunschweig, VW Arena
22.12.2017 (DE) Kiel, Sparkassen Arena
27.12.2017 (DE) Zwickau, Stadthalle
28.12.2017 (DE) Bamberg, Brose Arena
29.12.2017 (DE) Munchen, Zenith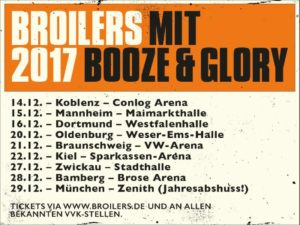 Hier könnt ihr euch vorab schon eingrooven und Booze & Glory als Headliner erleben.
Brute Force Tour
02.11.2017 (PL) Wroclaw, Stara Piwnica
03.11.2017 (DE) Rostock, Subculture Fight Fest
10.11.2017 (ES) Gasteiz , Gasteiz Calling
11.11.2017 (FR) Treize Sepitiers, In Your Face
12.11.2017 (FR) Montpellier, Secret Place
15.11.2017 (FR) Selestat, Le Tigre
16.11.2017 (FR) Dijon, La Vapeur + BISHOPS GREEN
17.11.2017 (FR) Paris, Pena Festyare
18.11.2017 (FR) St. Brieuc, Ink Mas Party
20.11.2017 (DE) Mannheim, 7er Club
24.11.2017 (SE) Gothenburg, Sticky Fingers
25.11.2017 (NO) Oslo, Revolver
29.11.2017 (DE) Köln, MTC + GIUDA
30.11.2017 (DE) Hamburg, Logo + GIUDA
01.12.2017 (DE) Berlin, SO36 + GIUDA
02.12.2017 (DE) Leipzig, Conne Island + GIUDA
Album Chapter IV (2017) hier.