"Knappe 42 Minuten Dauergrinsen!"
Artist: The Prophecy23
Herkunft: Heilbronn, Deutschland
Album: Untrue Like A Boss
Spiellänge: 41:41 Minuten
Genre: Thrash Metal, Death Metal, Party Metal
Release: 26.09.2014
Label: Massacre Records
Link: http://www.theprophecy23.de/

Produktion: Kristian "Kohle" Kohlmannslehner
Bandmitglieder:
Gesang (Death Vocals) – Philipp Heckel
Gitarre, Thrash Vocals – Hannes Klopprogge
Gitarre – Dennis Lidak
Bassgitarre – Phil Butcher
Schlagzeug – Florian Sanden
Tracklist:
The Greatest Wrestling Fan
Pit Laserbeam
Party Like It's 1984
Untrue To The Bone
Video Games Ain't No Shame
Home Is Where You Shred
Action Metal
Bass player
The Ballad Of SOD
Pablo The Peacemaking Pizza
Fuck The Dub
Tape Trading Like A Boss
The Ballad Of Old School Metal
Arriba Abajo (Bonustrack)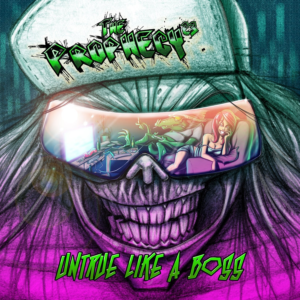 Die Band The Prophecy23 hat sich im Jahr 2002 gegründet, 2010 kam dann der langersehnte Plattenvertrag mit Massacre Records zustande, es folgte das Debütalbum …To The Pit, diverse Auftritte (u.a. auf dem Wacken Open Air) und 2012 das zweite Album Green Machine Laser Beam. Im September 2014 war es dann für das dritte Album Untrue Like A Boss an der Zeit, an den Start zu gehen und noch weitere unkonventionelle Metal-Fans für die Musik von The Prophecy23 zu begeistern.
Während ich zu Beginn noch denke, Thrash Metal serviert zu bekommen, merke ich bereits nach wenigen Tönen, dass ich hier annähernd ALLES bekomme, was das Genre Metal zu bieten hat. Neben eingängigen E-Gitarren, Akustikgitarren, Shouts, Screams und Pig Squeals gibt es Elemente aus Dub-Step (Fuck The Dub), Videospielmelodien (Tetrismelodie in Video Games Ain't No Shame) und absolut ironische Texte, die ihresgleichen suchen.
Mal wird der größte Wrestling Fan besungen, dann der arme Bassspieler, der auch mal beachtet werden möchte und sich kurzerhand jeden Job in der Band an den Nagel reißt, dann geht es um Pablo, die friedensstiftende Pizza, während im nächsten Song der Dub Step durch den Kakao gezogen wird. Kann es noch mehr Abwechslung geben?
The Prophecy23 - Untrue Like A Boss
Fazit: Vierzehn Tracks lang habe ich durchgehend gegrinst. The Prophecy23 nehmen sich und die ganze Metal-Welt nicht wirklich ernst. Während sie beweisen, dass sie musikalisch auf sehr hohem Niveau sind, da sie sich perfekt in jedes Genre reinversetzen können und dieses 1a widergeben, sind sie einfach unheimlich lustig. Eine sehr talentierte Band, die ich mir auf jeden Fall noch ein paar Mal anhören werde. Ich freue mich, die Truppe mal live zu sehen. Anspieltipps: Video Games Ain't No Shame, Action Metal, Tape Trading Like A Boss
Kommentare
Kommentare