Artist: The Ossuary
Herkunft: Bari, Italien
Genre: Heavy Rock, 70's Heavy Metal, Doom Metal
Release: 26.01.2019
Label: Supreme Chaors Records
Link: https://www.facebook.com/TheOssuary/
Bandmitglieder:
Gesang – Stefano Fiore
Gitarre – Domenico Mele
Bassgitarre – Dario DeFalco
Schlagzeug – Max Marzocca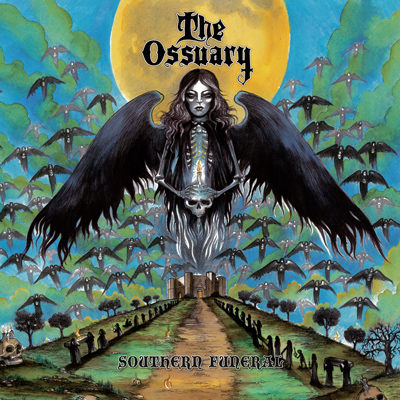 Time For Metal / Rene W.:
Hello Max,
First of all I'm glad that you took your time for this interview. I would like to talk about your current album Southern Funeral and its predecessor Post Mortem Blues.
The Ossuary / Max M.:
Hey Renè, here my pleasure! Let's do it!
Time For Metal / Rene W.:
You're from Bari in Italy. Where exactly is your home, and what's the Metal and Hard Rock scene like there?
The Ossuary / Max M.:
Bari does has a metal / rock scene with some bands and bars and clubs. It is not very big, we all know each other personally and try as well as possible to cooperate. We also have some metal festivals, none specifically designed for Doom or old classic heavy rock, but we have cool Doom and Stoner club shows sometimes.
Time For Metal / Rene W.:
You have released your last two albums with Supreme Chaos Records. How did this collaboration start and how was it strengthened during the last years?
The Ossuary / Max M.:
After two demos, and a few months after we formed we were looking for a label to release the first album and I was introduced to Robby and SCR by a mutual friend, Robby istantly became a fan and offered to work with us. He's a friend of the band ever since and also helped us a lot on our first European tour. He booked a few German gigs too, he showed up to see the band live and offered to release also Southern Funeral!
Time For Metal / Rene W.:
Already in 2017 the album Post Mortem Blues has surprised me. Your mix of Doom Metal, Progressive Metal, Hard Rock and Heavy Metal is very exciting and wears a very nice Old School signature. How did you find your way to this kind of music?
The Ossuary / Max M.:
All our influences are the 60/70's blues based heavy rock bands like Black Sabbath, Cactus, Captain Beyond, Deep Purple, Led Zeppelin, Rainbow, Grand Funk Railroad, Ten Years After, Uriah Heep, Cream, Blue Cheer, Iron Butterfly, or prog bands like Pink Floyd, Jethro Tull, ELP, King Crimson, bands like early AC/DC Judas Priest, Maiden, Motorhead, Thin Lizzy or Saint Vitus, Pentagram, Angel Witch, Witchfinder General, etc.. Yeah, actually there's a lot of bands that we like….. But I would say that we don't have limitations, we don't have to stick necessarily to one genre because basically we don't play a genre of music. All we are doing it's just to write cool songs and they sound like the mix you said because of all our influences .We can write a slow song and then a fast song with double bass drum parts, we can use keyboards or write a simple atmospheric song with more than 1 minute long solo and then have a proggy part at some point in the same song just because we feel like doing it. We like to have a vast range of variables because it's not about being a doom or a heavy rock band, it's about writing good stuff!
Time For Metal / Rene W.:
I would intuitively align both artworks to the same artist. Who has helped you here, and which specifications did you give him?
The Ossuary / Max M.:
Rossella "Roxhell" Abbattista was in charge for taking care of the band artwork. She's a talented artist, a kick ass tattoist and a good friend of the band, I think I know her since 20 years already. This time she also took the band pictures for the album. We have the same taste in music, arts and cinema so it's easy for us to work with Rossella. I usually come up with an idea on a primitive draft that I 've drawn before, explain how I would like it to be developed and then I bring some samples to the table so she can visually share what I' ve got in my mind. I want her to have the same vision I have and it's incredible how she gets totally into it, we're on the same page! I like her depressive, visionary, rough, old school style made of ink pen and water colours. Her great amazing job can be seen also for Southern Funeral!
Time For Metal / Rene W.:
Two years after Post Mortem Blues the successor Southern Funeral was released this January. Which experiences did you make with Post Mortem Blues, that could be transferred one-to-one to the new album? Were there any points you did differently exactly because of that?
The Ossuary / Max M.:
There is not a huge difference in my opinion, we probably progressed just a little bit as musicians and we're better songwriters now. That's how probably people perceive the difference between the first album and this new one!There has been an European tour in between the 2 albums but this happened last september after the album was recorded so it did not bring in any crucial experience
Time For Metal / Rene W.:
Can you please tell us something about the recording process? Who is responsible for the songwriting and the lyrics? What is happening in the rehearsal room? How do you get the fine-tuning in the studio, do you still let the producer guide you or is the concept carved in stone one hundred percent in advance?
The Ossuary / Max M.:
We work "on layers"! Me and Domenico (guitars) write all music in the first place, that's the "first layer"! It's basically me layin' down the primitive ideas, riffs, and vocal lines and then working on it with Domenico. Or the other way around, Domenico has some cool riffs so I work on some lyrics and vocal lines to sing on it. Once the song structure and lyrics are ready we add the "second layer" asking Stefano to sing on it and Dario to put his basslines. That's when everyone contributes to the music, things can change until we come up with something good enough. This is how it works for us, it's good to have just a few members with clear ideas at the beginning of songwriting. Normally by the time we enter the studio we are 90% sure about what we're going to record, because we use to record demos and practice the songs several times. Producer is our long time friend, we know each other very well and we work together to get the best out of it. He' s like the 5th member of the band and we also listen to his opinion…
Time For Metal / Rene W.:
To Southern Funeral and especially to the song Belphegor the following has shot me in the head: Alone at Belphegor you feel the intelligence to provide dull, dusty rhythms with a concise refrain, which passes the blood-brain barrier for days and is absorbed by the body like drugs. The root of 70's Heavy Metal makes the concept still saddle-proof, like a root of the fig tree, which, one can hardly believe it, can penetrate to 100 meters depth. Grounded with a view to the essentials, further highlights spring from Southern Funeral. How do you think about it and does this quotation reflect your gaze?
The Ossuary / Max M.:
Thanks for noticin' it! As I said before, for us it's important to write good stuff and provide emotions. If we don't feel that special vibration maybe there's something that doesn't work properly. So sometimes we struggle a bit until the song is giving us that feeling that people are going to get while listening to our music. That is probably helping to identify our music a bit.
Time For Metal / Rene W.:
To dive a little bit deeper into Southern Funeral can you please give a short track-by-track commentary for your fans and our readers?
The Ossuary / Max M.:
Walk into Sepulchral Haze with its organ intro is a classical opener with a obsessive catchy guitar riff and renfrain, and pounding rhythm section! Maze of No Return is our "speed up tempo" song with great solos, twin guitars which turns to some dark melody towards end. I had a lot of fun in recording this and playin' it live, it' a song made for drumming. Belphegor is in the same way of Post Mortem Blues song, still "sing-a-long" but more refined and melodic. Southern Funeral is atmospheric, doom & gloom and more intimate, I like a lot the central part when it gets even slower and you can hear keyboards. I also like Eternal Pyre with its impact, its basic circulating Sabbathy riff and that kind of psychedelic/Beatlesque moment that reoccurs half way in the song. Sleep Demon is the oldest song of this album, it's the first song we wrote right after recording Post Mortem Blues album, it's a weird one with this nocturnal vibe, I like the ending part with his up-tempo, the breaks and good guitar work. I'm very affectionate to Under The Spell, lyrics mean a lot to me and the song stands out of the rest of the album in my opinion, definitely one of my favourites. Shadow of Plague is the perfect ending for this album, it has everything: great epic heavy riff, dark depressive chorus, fast paced part and a slow prog/psychedelic finale, it kinda sumps up our sound!
Time For Metal / Rene W.:
I think you already got this question many times: Are there any shows planned in Germany? Do you plan a club tour through Europe, or will you present your songs only in your home country Italy?
The Ossuary / Max M.:
We toured Europe last year and of course Germany was included with 3 shows. We played Ibbenburen, Hamburg and Stuttgart and it was cool! We're trying to come back in Germany and all other countries, there's no reason to play only Italy. In this age of internet and social media the only way to make it real is to go out whenever you can and play shows. We want to get our music out to as many people as possible so we hope to tour Europe again really soon.
Time For Metal / Rene W.:
In Germany we have many festivals during the summer. Is it the same with you in South Europe? Will you play any outdoor festivals this year?
The Ossuary / Max M.:
We have a few festivals in Italy right now. Our country is not that big and people prefer to go abroad and see bigger festivals like in Germany for example. We dont have any festival planned this summer except for a gig in Rome where we have been asked to open for Coven and Demon Head. Someone told me it's gonna be open air and there will be other bands so that is supposed to be a festival, I guess! Right now is not 100% confirmed yet but we'll see!
Time For Metal / Rene W.:
So, that was the last question. Thank you very much once more and all the best for your future. Is there anything you would like to tell your fans and the readers of Time for Metal?
The Ossuary / Max M.:
Thanks for the interview, keep supporting underground good music and see you on the road somewhere! Stay heavy & doomy!