"Gute Stimmung garantiert."
Artist: Iron Savior
Herkunft: Deutschland
Album: Live At The Final Frontier
Spiellänge: 84:47 Minuten
Genre: Power Metal
Release: 29.05.2015
Label: AFM
Link: http://www.iron-savior.com/
Bandmitglieder:
Gesang – Piet Sielck
Gitarre – Joachim "Piesel" Küstner
Bassgitarre, Hintergrundgesang – Jan-Sören Eckert
Schlagzeug – Thomas Nack
Tracklist:

Ascendence
Last Hero
Starlight
The Savior
Revenge Of The Bride
Break The Curse
Burning Heart
Mind Over Matter
Hall Of The Heroes
R U Ready
Condition Red
I've Been To Hell
Coming Home
Iron Watcher (Medley)
Atlantis Falling
Breaking The Law (Cover)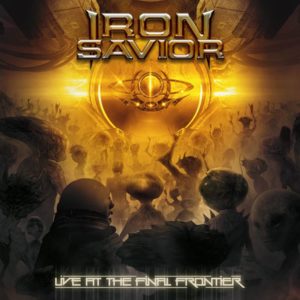 Iron Savior haben zu ihrem 20-jährigen Bandjubiläum im Januar 2015 ein Konzert in Hamburg mitgeschnitten und auf das im Mai veröffentlichte Live-Album Live At The Final Frontier gepackt.
Live-Alben sind ja immer so eine Sache. War man selbst nicht beim Konzert dabei, finde ich den Erwerb einer solchen Veröffentlichung zumeist unnötig, da man die Songs als Fan schließlich schon kennt (es sei denn, es werden einem auf dem Album noch unveröffentlichte Überraschungen serviert) und es im Zweifelsfalle nur bereut, dass man nicht beim Auftritt dabei war. Anders sieht die Sache natürlich aus, wenn man selbst vor Ort war – dann kann man sich noch mal schön zurückerinnern und im Wohnzimmer mitfeiern.
Zu Live At The Final Frontier kann ich auf jeden Fall sagen, dass es ein ordentliches Live-Album geworden ist. Die Stimmung im Publikum kommt sehr gut rüber und, wenn die Band so richtig bei der Sache ist, hat man teilweise noch nicht mal mehr das Gefühl, man würde einem Live-Auftritt lauschen, sondern hätte hier eine Studioaufnahme vorliegen. Echt gut gemacht!
Fazit: Klar, hier gibt es mehrere Aspekte, die man beachten sollte. Ob man den Kauf nun wagt oder nicht, ist (aus den vorgenannten Gründen) jedem selbst überlassen. Ist man allerdings Freund des Genres und kann mit Live-Platten, auch wenn man vielleicht selbst nicht vor Ort war, etwas anfangen, dann kann ich nur sagen: Greift zu! Ihr macht bestimmt nichts falsch, denn hier bekommt ihr viel Stimmung zum Kauf mitserviert.

Anspieltipps: Starlight, Heavy Metal Never Dies und Breaking The Law