"Comeback der US-Metaller!"
Artist: Shadows Fall
Album: Fire From The Sky
Spiellänge: 58:41 Minuten
Genre: Thrash Metal, Metalcore
Release: 17.08.2012
Label: Razor & Tie Records
Link: http://www.myspace.com/shadowsfall
Klingt wie: Drone und Metallica
Bandmitglieder:
Gesang – Brian Fair
Gitarre/Gesang – Matt Bachand
Gitarre – Jon Donais
Bass – Paul Romanko
Schlagzeug – Jason Bittner
Tracklist:
The Unknown
Divide And Conquer
The Weight Of The World
Nothing Remains
Fire From The Sky
Save Your Soul
Blind Faith
Lost Within
Walk The Edge
The Wasteland
Eternal Life
A Death Worth Dying
Failure Of The Devout (Live)
The Light That Blinds (Live)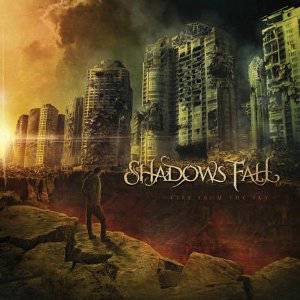 Die US-Metaller Shadows Fall möchten es mit ihrem neuen Album Fire From The Sky noch einmal wissen. Nach vergangenen Höhen und Tiefen veröffentlichen sie nun relativ unerwartet ihren nächsten Longplayer Fire From The Sky, welcher 14 Tracks umfasst, wobei es sich bei zweien um Liveaufnahmen der Stücke Failure Of The Devout und The Light That Blinds handelt.
Musikalisch ist ein Vergleich zu der deutschen Newcomer-Band Drone naheliegend, da Shadows Fall auf einen schmalen Grad zwischen Metalcore und Thrash Metal wandeln. Geschaffen wurde ein rhythmische, riffige Gute-Laune-Scheibe, die fleißig zum Headbangen einlädt. Atmosphärisch ist das Langeisen in die 80er Jahre und zugleich in die moderne Zeit einzuordnen. Als Aushängeschild ist wieder einmal mehr Mister Brian Fair zu nennen, der das Zepter seit 2000 schwingt und die Band mit einer ganz besonderen Gesangsfarbe prägt, die durch die Vielfältigkeit und fette Kick-Ass-Momente lebt.
Die beiden Livetracks Failure Of The Devout und The Light That Blinds reihen sich nahtlos in das "Ganze" ein, ein Circle-Pit wird verlangt und dem Hörer wird klar, dass bei ihren Gigs die Hölle abgeht. Gleiches kann man über die neuen Tracks sagen, die zu jeder Zeit durch innig geführte Gitarrenarbeit überzeugen können. Der daraus resultierende Mix aus Aggressivität, Power und Feingefühl macht das nunmehr achte Album der Band aus Massachusetts zu einem Feuerwerk aus gewohnten Melodic Death Metal-Anteilen, die, wie schon angesprochen, durch harte Metalcore-Schneisen und Thrash-Walzen geführt werden.
Fazit: Fire From The Sky ist durchaus besser als erwartet. Den US-Metalern ist ein Schritt in die richtige Richtung gelungen, zudem sind die beiden Bonustracks großartig und halten die pure Energie auf dem Silberling gefangen - allein dies verursacht einen besonderen Kaufreiz. Anspieltipps: The Wasteland, Failure Of The Devout (Live) und The Light That Blinds Bewertung: 8 von 10 Punkten Fazit Rene: Wiedermal können Shadows Fall das präsentieren, was ihre Fans wünschen, ohne sich dabei großartig zu kopieren: Entspannte, sanfte Klänge fahren die Hass-Attacken angenehm herunter bis diese durch schöne Metalcore-Riffs und viel Melodic Death Metal-Power aus dem Traum gerissen werden. Die emotionalen Livetracks bilden das i-Tüpfelchen der Fire From The Sky-Platte. Negative Ausreißer sind nicht zu verzeichnen und so sollte es bei einem guten Album auch sein. Von mir erhalten die US-Boys dafür neun von zehn Punkten, die sie für ein spannendes Album erhalten, welches definitiv das ein oder andere Mal in eurem Plattenspieler rotieren sollte! Anspieltipps Rene: Nothing Remains und Lost Within