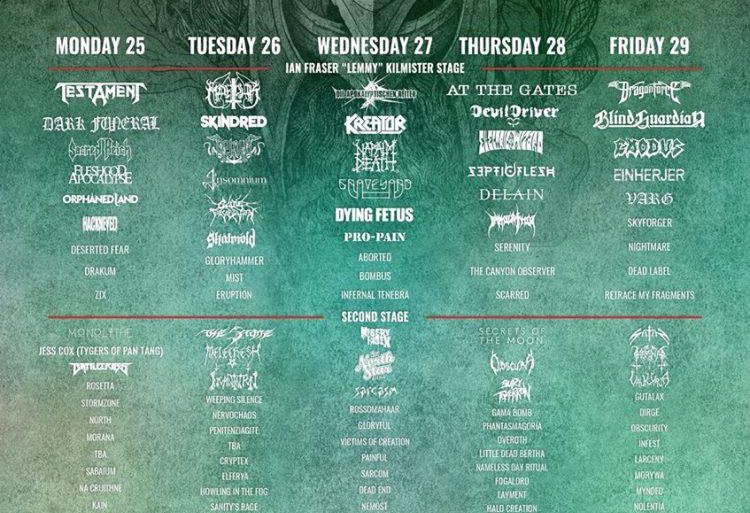 Eventname: Metaldays 2016 Bands: u.a. Blind Guardian, Cattle Decapitation, Dark Funeral, Devildriver, Die Apokalyptischen Reiter, Dragonforce, Dying Fetus, Einherjer, Fleshgod Apocalypse, Graveyard,...
"Durchgeschüttelt bis zur Bewusstlosigkeit!" Artist: Battlecross Herkunft: Detroit, Vereinigte Staaten von Amerika Album: Rise To Power Spiellänge: 35:56 Minuten Genre:...
Die Thrasher BATTLECROSS aus Detroit bringen diesen Freitag ihr neues Album "Rise To Power" über Metal Blade Records heraus. Zuvor...
Das dritte Album "Rise To Power" der Detroiter Thrasher BATTLECROSS erscheint in nicht einmal mehr vier Wochen über Metal Blade...
Die Detroiter Thrasher BATTLECROSS sind momentan mit Crowbar und Lord Dying auf der "The Summer of Doom Tour" unterwegs, um...
Die Motor City Thrasher von BATTLECROSS sind soeben von einerm erfolgreichen Trip aus to Bogota, CO, zurückgekehrt und launchen jetzt...
Neues Album wird diesen Winter in Angriff genommen! BATTLECROSS sind gerade von ihrem ersten Trip auf der Südhalbkugel zurückgekehrt! Die...
Die Melodic Death Metaller CRIMSON SHADOWS gehen im Sommer gemeinsam mit BATTLECROSS auf große Sommer Tour! Die Gewinner des "Wacken...