"Können die Erwartungen erfüllen, aber nicht übertreffen!"
Artist: The 69 Eyes
Herkunft: Helsinki, Finnland
Album: Universal Monsters
Spiellänge: 46:50 Minuten
Genre: Goth ´n´ Roll
Release: 22.04.2016
Label: Nuclear Blast Records
Link: https://www.facebook.com/the69eyes/
Bandmitglieder:
Gesang – Jyrki 69
Gitarre – Bazie
Gitarre – Timo-Timo
Bassgitarre – Archzie
Schlagzeug – Jussi 69
Tracklist:
Dolce Vita
Jet Fighter Plane
Blackbird Pie
Lady Darkness
Miss Pastis
Shallow Graves
Jerusalem
Stiv & Johnny
Never
Blue
Rock ´n´ Roll Junkie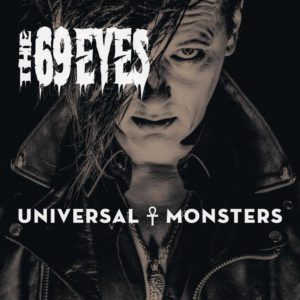 Seit 1992 begeistern die Finnen von The 69 Eyes mit zwölf Studioalben. In ihrer Heimat gelten die Männer aus der Hauptstadt als Superstars, seit dem fünften Werk Wasting The Dawn wurde jedes Album in den Charts versenkt. Platz 1-5 ist Standard für die Silberlinge von Sänger Jyrki 69 mit seiner konstanten Formation. Ihren Dark Metal nennen die Skandinavier liebevoll auch Goth ´n´ Roll, damit liegen sie in der Genrewahl gar nicht so weit daneben. Als reinen Dark Rock darf man The 69 Eyes nicht nur wegen ihrer Gründung im Sleaze Rock nicht betiteln. Die Symbiose aus Rock, Rock ´n´ Roll, Gothic und Dark Metal funktioniert auf Universal Monsters einmal mehr wie die Faust aufs Auge, lediglich ein Superhit bleibt verkannt. In einem guten Album ohne Auswüchse nach oben und unten, zocken Bazie und Timo-Timo an den Gitarren einen soliden Stiefel herunter.
Gestartet wird das vor einer Woche über Nuclear Blast veröffentlichte Werk mit Dolce Vita. Wer wie meine Wenigkeit bislang noch nicht dazu gekommen ist, Universal Monsters anzutesten, sollte dies nachholen. Nicht ohne Grund wurde Platz 46 in unseren Charts erreicht, und auch bei unseren Nachbarn in der Schweiz steht ein starker 58. Platz zu Buche. In Finnland hat es für den Platz an der Sonne nur knapp nicht gereicht. Platz zwei darf aber ebenso gefeiert werden. Jet Fighter Plane greift harmonisch in lockere Klänge, bei dem immer wieder Keyboard-Einspielungen integriert werden. Die Backvocals säuseln dahin, ohne den Refrain zu weich herunterzuspülen. Große Gefühlsduseleien sucht man vergebens, Blackbird Pie gibt eher den Startschuss zu einem Marathon hochwertiger Stücke,  ohne den ganz großen Wurf zu landen. Die beiden letzten Alben X und Back In Blood haben mir etwas besser gefallen, das wiederum bleibt Jammern auf höchstem Niveau. Lady Darkness, Shallow Graves oder Jerusalem haben ihren Charme und setzten Universal Monsters den Stempel auf.
Fazit: Sehr identische Stücke, wenn man vom Künstlerischen ausgeht, bilden ein abwechslungsreiches Album, das von Blues Rock bis hin zu luftigen Dark Metal Riffs reicht. Als tiefschwarz kann man Universal Monsters beim besten Willen nicht bezeichnen, eher als eine graue Platte, die düstere Emotionen in einem Schleier verpackt, der mit dem menschlichen Auge nur schwer zu durchdringen ist. Reinhören darf man allemal!

Anspieltipps: Lady Darkness und Jerusalem
Pro
durchgehen Hochwertig
ein Song greift in den Nächsten
Contra
ohne große Höhepunkte