"Jedes Jahr ein bisschen mehr." Festivalname: Wacken Open Air 2017 Bands: Aborted Ahab Alice Cooper Amon Amarth Annihilator Apocalyptica Architects...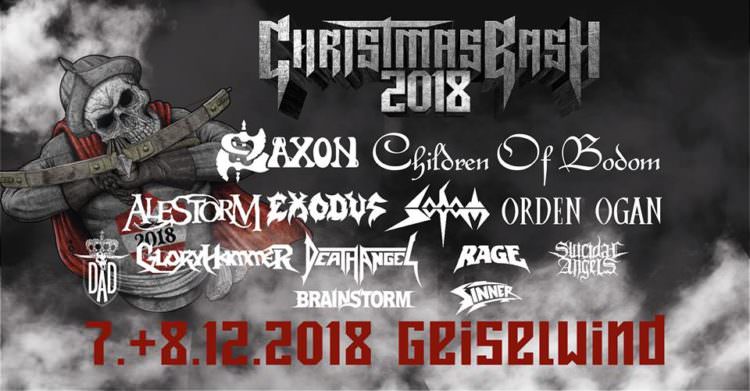 Geiselwind – Am 7. und 8.12. steigt wieder die lauteste Weihnachtsfeier Bayerns. Dann nämlich lädt das CHRISTMAS BASH wieder zum besinnlichen Headbangen. Die ...
"Tschechische Qualität" Eventname: Brutal Assault Bands:  Ad Nauseam, Agalloch, Amenra, Anaal Nathrakh, Annihilator, Antaeus, Antropomorphia, Arcturus, ASPHYX, At The Gates,...
"Und wieder bebt der Pott – Ruhrpott Metal Meeting 2018 (Vorbericht)" Eventname: Ruhrpott Metal Meeting 2018 Bands: Pripjat, Suicidal Angels,...
Gerade erst sind die Isländer SKÀLMÖLD von einer ausgiebigen Europatour zurückgekehrt und haben dabei mit epischen Geschichten und bombastischen Liveshows...
Mit der letzten Bestätigungswelle im vergangenen März, hat das ROKCHARZ die letzten Bands für das 25-jährige Jubiläum des Festivals bekannt...
Diese Band sollte mittlerweile an keinem mehr vorbeigegangen sein. Wer startet denn schon in die Bandkarriere mit einem Supportslot auf...
"Summer Breeze Open Air 2016 vom 17.08.2016 bis 20.08.2016 in Dinkelsbühl"
Festivalname: Summer Breeze Open Air 2016 Bands: Abbath, Accuser, Aeverium, Agnostic Front, Airbourne, Almanac, Arch Enemy, Argyle Goolsby and the Roving...