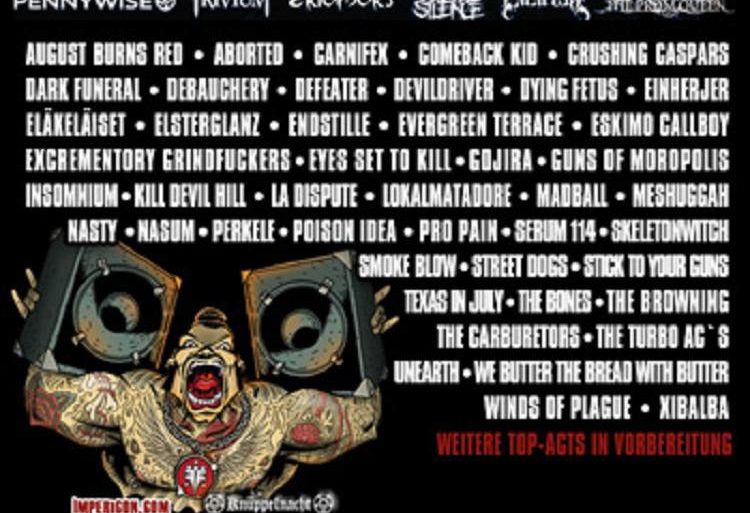 Zum 19. Mal lädt der heftigste Acker Deutschlands ein! Das With Full Force Festival geht dieses Jahr bereits in die...
Veranstaltung: Paganfest 2012 Ort: Oberhausen, Nordrhein-Westfalen, Deutschland Homepage: http://www.paganfest.eu/ Datum: 16.03.2012 Ticketkosten: VVK 30,00 EUR + 10,00 EUR VVK-GEB. |...
Datum: 12.04.2012 – 14.04.2012 Ort: Stadthalle Lichtenfels Einlass:: Festivalgelände & Metalmarkt: zwei Stunden vor der ersten Band / Stadthalle: eine...
"Krisiun / Malevolent Creation / Vital Remains + Support in Bad Oeynhausen" Bands: Krisiun, Malevolent Creation, Vital Remains, Karnak...
"TMC und EMA THRASH FEAST" Bands: Contradiction – Thrashtanica – Eradicator – Nucleator Location: JuKuz Phönix im Moormerland Homepage: http://www.phoenix-moormerland.de/...
Autoren: Piety & CyR4S "Wenn ein Dorf zu Brennen beginnt!" Event: Süchteln Brennt 2012 Bands: Le Fly, The Achtung...
"Revolt! Die erste 2012! Bands: Headshot, Tragic Cause, Seita Location: Bambi Galore, Hamburg/Billstedt Homepage: http://www.bambigalore.de/ Datum: 20.01.2012 Kosten: VVK: 8...
Bands: Nucleator, Tragic Cause und Surface Location: Tunis in Marx (Friedeburg) Homepage: http://www.tunis-discothek.de/ Datum: 09.12.2011 Kosten: AK: 5 Euro Besucher:...