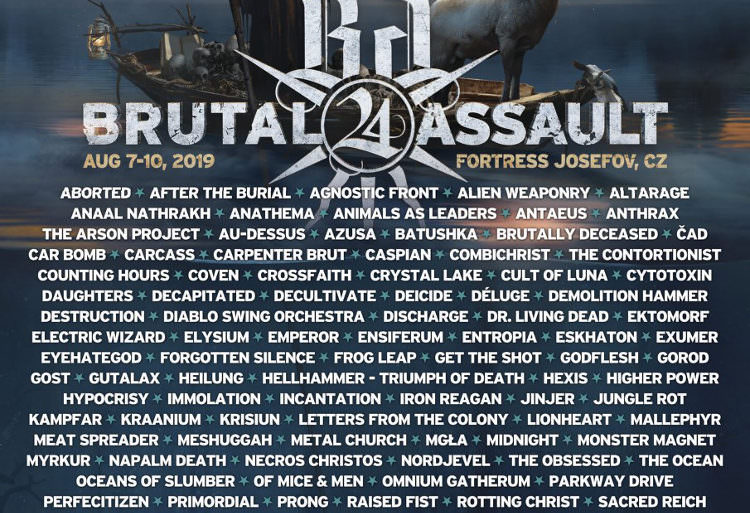 Ein starkes Line-Up in einer eindrucksvollen Kulisse
Eventname: Brutal Assault 2019 Bands: Aborted, After The Burial, Agnostic Front, Alien Weaponry, Anaal Nathrakh, Anathema, Animals As Leaders, Annotations...
Die legendäre "Death Is Just The Beginning"-Compilation kehrt zurück! Aber nicht nur das, unter diesem Banner geht im Herbst auch...
Instinct [in-stingkt] – Nomen: 1) eine natürliche oder inhärente Fähigkeit, Impuls, Kapazität, oder Neigung; 2) ein angeborenes Verhaltensmuster oder Tendenz...
Die polnischen Death Metal Monster DECAPITATED haben den Titel ihres neuen Albums enthüllt. Das sechste Studioalbum trägt den Namen Blood...
"Decapitated haben ihren Sound gefunden und kommen mit Macht" Artist: Decapitated Herkunft: Krossen, Polen Album: Anticult Spiellänge: 37:50 Minuten Genre:...
Die polnischen Death Metal-Meister Decapitated haben ihre aktuelle Platte Anticult am 7. Juli 2017 via Nuclear Blast von der Kette...
"Summer Breeze Open Air 2014 von 14.08.2014 – 16.08.2014 in Dinkelsbühl" Festivalname: Summer Breeze Open Air 2014 Bands: Aborted, AHAB,...
Die Metal Maniacs Markgräflerland e.V. bringen Leben ins Land
Noch 21 Tage und ein paar Kaputte, dann geht das Baden In Blut Festival im äußersten Zipfel Deutschlands im Südwesten...