The Temperance Movement melden sich Anfang 2018 mit ihrem neuen Album A Deeper Cut mit anschließender Tour zurück.
Nach einigen turbulenten Jahren, in denen sie zwei Top-20-Alben veröffentlichten, um die Welt tourten und die Bühne u.a. mit den Rock-Megastars The Rolling Stones teilten, sind The Temperance Movement endlich zurück. Hinter den Kulissen wurde in den letzten Monaten hart gearbeitet um nun ein noch erfolgreicheres 2018 vorzubereiten.Das mit Spannung erwartete neue Album der Band, A Deeper Cut, wird am 16. Februar 2018 via Earache /Warner Music veröffentlicht und enthält 12 brandneue Songs, die sich textlich auf die jüngsten Erfahrungen der Band stützen und ihre immer besser werdenden Songwriting-Fähigkeiten zeigen.
"This is my favourite record we've made so far and I'm more excited about getting this out there than I have been about any of the previous albums," sagt Gitarrist Paul Sayer. "I feel like we've really captured what the band is about on this one; I can't wait for people to hear it and I can't wait to get out on the road and play it live to everyone."
Gitarrist Matt White, der sein Debüt mit The Temperance Movement auf A Deeper Cut gibt, fügt hinzu: "There isn't an ounce of fat on this album. Everything that is on there happened because it was absolutely necessary and vital that it was put down.  It's both a nod to the past and a wink to the future.  It was a pleasure to be involved in writing and recording with The Temperance Movement for the first time.  I feel that together, with [producer] Sam Miller, we have surpassed any expectations that were placed upon us and that we have produced the finest body of work from the band to date."
[youtube]YJVwJ0nz5ho[/youtube]
A Deeper Cut
ist ab heute
vorbestellbar
. Es wird eine limitierte Digipak-CD, eine reguläre Digipak-CD, ein reguläres Vinyl und ein signiertes farbiges Vinyl in limitierter Auflage geben.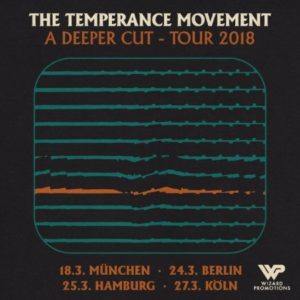 18.03.2018 München – Backstage Werk
24.03.2018 Berlin – Lido
25.03.2018 Hamburg – Knust
27.03. Köln – Bürgerhaus Stollwerk