"Your Choice Of Pizza Toppings Please" Artist: Stay Focused Herkunft: Limburg / Deutschland Album: Contrasts Genre: Indie Rock, Alternative, Modern...
"Lahmes Wolfrudel" Artist: Man With A Mission Herkunft: Tokyo, Japan Album: Chasing The Horizon Genre: Alternative Rock, Indie Rock, Dance...
Die beiden Kindheitsfreunde Guy Cohavi und Danny Finkenthal gründeten in Tel Aviv die israelische Indierock-Band Bucharest und veröffentlichten 2011 ihr...
Hardrock Konzert im beliebtesten Club des Landes
Eventname: The Darkness – Easter Is Cancelled Tour 2020 Headliner: The Darkness Vorband: DZ Deathrays Ort: Markthalle, Hamburg Datum: 20.02.2020...
Mit "Schwarz", der ersten Single aus dem kommenden Album "Gaijin" (30.03.2018, People like You), präsentiert sich die Kölner härter und...
Indie Rock und Grunge in Tradition von Pixies und Nirvana
Band: The Primals, Real Big Peanuts Ort: SK 2, Burgstr. 4, 56068 Koblenz Datum: 26.05.2019 Kosten: 10 Euro (AK) Genre:...
"The Hirsch Effekt – Eskapist Tour + Support: We`Ve Got Muscles – am 26.01.2018 im Vortex in Siegen" Künstler: The...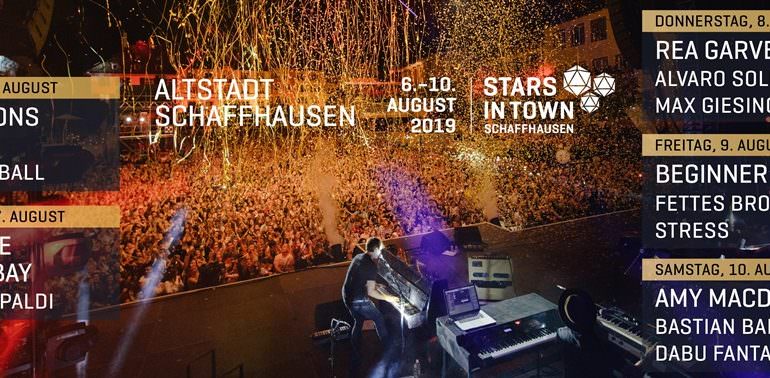 Hardrockgrößen bei Stars In Town 2019
Event: Stars In Town 2019 Bands: Scorpions, Europe, Crystal Ball, Bastille, James Bay, Lewis Capaldi, Rea Garvey, Alvaro Soler, Max...
"Eine erfrischende Abwechslung" Artist: Leyan Album: Dancing Sculptures Spiellänge: 45:41 Minuten Genre: Indie Release: 24.06.2011 Label: Noizgate Link: www.myspace.com/leyan Klingt...